It's been a while since I've posted. I've been busy with... well... lots and lots of knitting. I've completed TWO test knits for SWTC. They were both a lot of fun and I hope to do a third here soon.
The first was their Tofu Tee. It uses 5 balls of their TOFUtsies yarn held double stranded and multiple colors that fade in and out of one another. The pattern itself is ingenious and I'll definitely be knitting it again. The colors, however, not my fav. It was still pretty cool... and the color changes kept it interesting :) Steve Leard was kind enough to model it for me.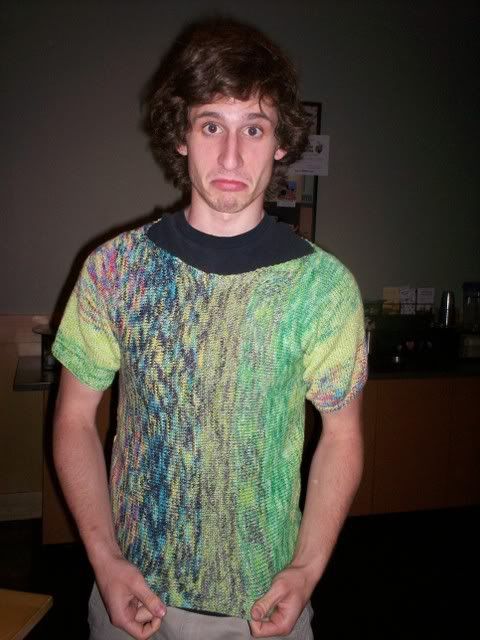 Mom wants one, but in a solid color. I'll probably use the khaki colored Savoy I have and was going to use for a sweater for me, but no longer feel the desire to make. Maybe I'll overdye it when I'm done knitting it. I'm not sure if she'll like the khaki.
Anyway, the next test knit was a little felted bag. I wasn't supposed to felt it and it needed buttons sewn on but this is what it ended up looking like:
It uses SWTC's Karaoke yarn, very similar to SWS. I'd say the Karaoke is a bit more splitty and maybe a little thinner but still a nice yarn. I really don't like making bobbles, and they didn't mail me enough beads to make the bag as written up in the pattern so I modified. That's why the beading looks a little off.
I've also been fiddling away on other crap. I finished another string bag for my friend Lisa's birthday, yet to be gifted.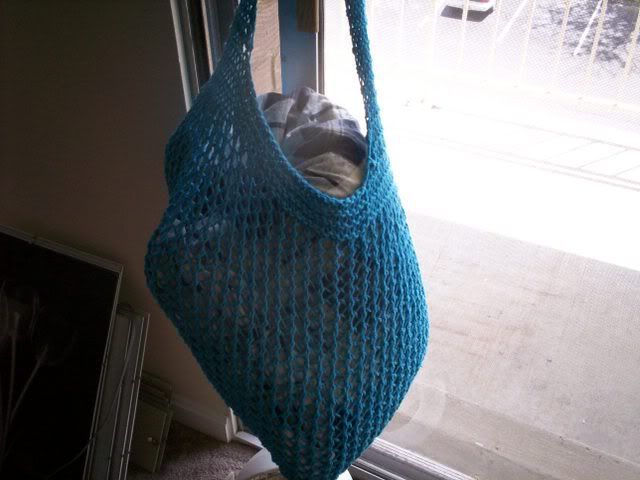 I finished a little stuffed sheep I had started from a kit I bought MONTHS ago, if not a year. It only needed the i-cord legs and face knit.
I also started my Clapotis from that Ellyn Cooper I posted in my last entry or so. Its coming along nicely and is about halfway done, maybe a little over. I really like how the yarn is knitting up and how it feels. No pictures for now :)
Here's to hoping I'm a little more regular with my updates!